NOTICE TO PATIENTS
Concierge Physical Therapy
We treat you in the comfort of your home or office.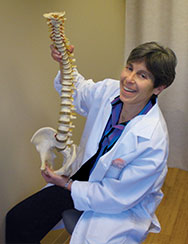 Welcome to Spine Solvers Inc.
Andrea Wolkenberg, DPT, MA, CKTI, MCMT
Founder and President of Spine Solvers Inc.
Dr. Wolkenberg is a leading physical therapist in New York, providing concierge physical therapy services and chronic pain treatment in the comfort of her patients' homes or offices. 
She earned a Doctor of Physical Therapy degree from the College of St. Scholastica and a Bachelor's degree in Physical Therapy from The University of Pennsylvania, School of Allied Medical Professions. She has advanced training in manual medicine, holding a Mastery Certification in Manual Therapy from Hands On Seminars. She is a Certified Kinesio Taping® Instructor (since 2001) and a former member of the Kinesio Taping Association Advisory Board. She is an instructor for IASTM – Instrument Assisted Soft Tissue Mobilization and has been a lecturer and program planner for the New York State Pain Society. Throughout her career, she has worked with patients suffering from acute and chronic pain related to orthopedic and neurological conditions, as well as postural insufficiency syndromes. Most of her professional focus has been in treating neck and back pain and chronic pain of all kinds related to postural and muscle imbalance syndromes.
Dr. Wolkenberg has developed a unique, eclectic approach to the treatment of chronic pain by integrating the knowledge she has gained from her decades of continuing education with luminaries in the fields of orthopedic, osteopathic, and manual medicine and combining it with postural re-education, targeted exercise, and instruction in proper body mechanics and assistance with lifestyle changes. She treats …
Arthritis · Back Pain · Bursitis · Dance Injuries · Carpal Tunnel Syndrome · Headaches · Herniated Discs · Radiculopathy · Spinal Stenosis · Myofascial Pain Syndrome
Neck Pain · Plantar Fasciitis · Sciatica Shin Splints · Spondylolysis & Spondylolisthesis · Sports Injuries · Sprains · Tendonitis · TMJ · Whiplash