Andrea Wolkenberg
Andrea Wolkenberg, PT, MA, CKTI, MCMT is Founder and President of Spine Solvers Inc.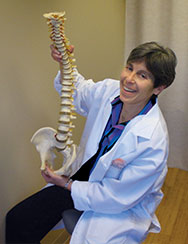 She is a graduate of The University of Pennsylvania with a Bachelor's degree in physical therapy from the School of Allied Medical Professions. She has advanced training in manual medicine, holding a Mastery Certification in Manual Therapy from Hands On Seminars. She is a Certified Instructor of the Kinesio Taping Method® and is on the Advisory Board of the Kinesio Taping Association International. Throughout her career, she has worked with chronic pain patients in almost every kind of clinical setting. Since 2004, most of her professional focus has been in treating neck and back pain and chronic pain of all kinds related to postural and muscle imbalance syndromes. She is actively involved with the New York State Pain Society as a lecturer and program planner.
Ms. Wolkenberg has developed a unique eclectic approach to the treatment of chronic pain by integrating the knowledge she has gained from her decades of continuing education with luminaries in the fields of orthopedic, osteopathic, and manual medicine and combining it with postural re-education, targeted exercise, and instruction in proper body mechanics, and assistance with lifestyle changes. She deliberately treats her patients in their own work or home environments to best identify their mechanisms of pain, and then she creates a patient-centric program to resolve or diminish the problems. When necessary and appropriate, Ms. Wolkenberg will refer her patients to other practitioners, such as massage therapists, acupuncturists, Alexander Technique teachers, Pilates instructors, physician specialists, nutritionists, and organizers.
Ms. Wolkenberg uses the new and effective Kinesio Taping method to prolong the benefits of her hands on treatment and to jump start the nervous system to bring the body to homeostasis. She is a certified instructor of the Kinesio Taping Method, only one of five instructors in the Mid-Atlantic region.
Spine Solvers Inc. offers other services as well, including rehabilitation evaluation for patient placement into or out of assisted living facilities, nursing homes, or home environments; architectural barrier assessment for adaptive, rehab, or exercise equipment for the home or office; ordering of necessary rehab equipment for safety and mobility; expert witness testimony in legal cases involving physical therapists; escort to and advocacy during medical appointments; injury prevention training for at risk workers; and  instruction in the Kinesio® Taping Method to licensed health care professionals.